Thee ITTC crank-up stand are made of steal, handles a load of 300 lbs per stand and has folding tripod legs.
Product:
ITTC CS-12 Crank Up Stand
Daily Rental Price:
$15
Includes:
Crank Up Stand, T Bar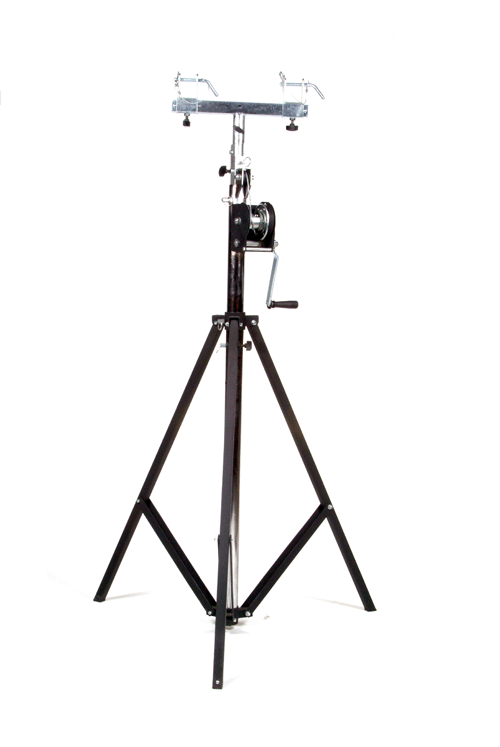 These are great medium duty crank up stands.
Minimum Height: 5.9ft
Maximum Height 13.2ft
Maximum Vertical Load: 220lbs.
Insetion Diameter: 1 3/8″
Footprint: 63″ x 63″
Unit Weight: 55lbs.
Product:
Global ST-32 13' Crank Up Stand
Daily Rental Price:
$35
Includes:
Crank Up Stand, T Bar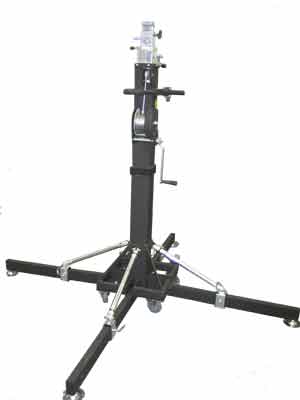 These are Extra Heavy Duty Tower Lifter with Outriggers
Features:
Max Height: 18 (5.5m)
Max Vertical Load: 450lbs.
Insertion Diameter: 2 5/8″ (58mm)
Unit Weight: 229 lbs. (104 kgs)
Product:
Global ST-180 18' Heavy Duty Crank Up Stand
Daily Rental Price:
$35
Includes:
Crank Up Stand, T Bar