NSI's MC 7008 Series lighting consoles are simple and flexible with three operating modes. These consoles provide standard 2-scene preset operation, single scene wide mode for double channel capacity and memory scene operation mode.
Product:
NSI N7008 8/16 Channel Lighting Controller
Daily Rental Price:
$20
Includes:
Controller, Power Cable, Carrying Case
NSI's N4600-000 is a 4-channel dimmer pack.
600 W per channel
Microplex
120V
Product:
NSI N4600-000
Daily Rental Price:
$15
Includes:
Dimmer, Power Cable, Carrying Case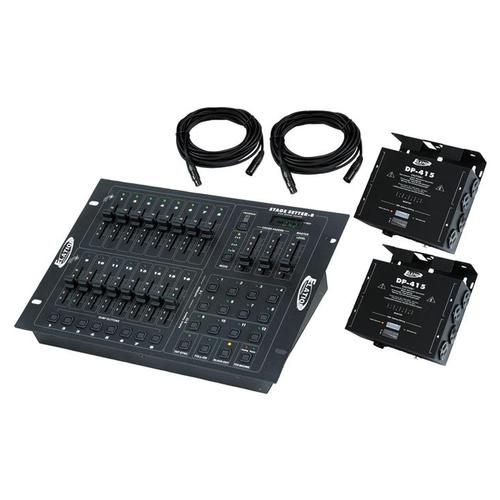 • Conventional dimming console
• 16 total DMX channels
• 3 different operation modes- 2 x 8, 8 x 8 or 1 x 16
• 8 programmable Chases- 30 steps each
• 4 built in programs containing 30 steps each
• Use in conjunction with the Elation; DP-DMX20L, CYBER PAK, UNI PAK, DP-DMX4B or DP-640
• 16 individual channel faders
• Master fader- assigned to all 16 channels
• X / Y Cross Faders
• Tap Sync button for speed / fade override
• Full-On button for 100% momentary output to all 16 channels
• Bright LCD display
• Fog Machine input and trigger button- compatible with MB-1000, Stallion, Vapor- Flow, Fog Storm-1200 & 1700
Product:
8/16 DMX Controller
Daily Rental Price:
$30
Includes:
Controller, 2 Dimmers, Power Cables, Carrying Cases